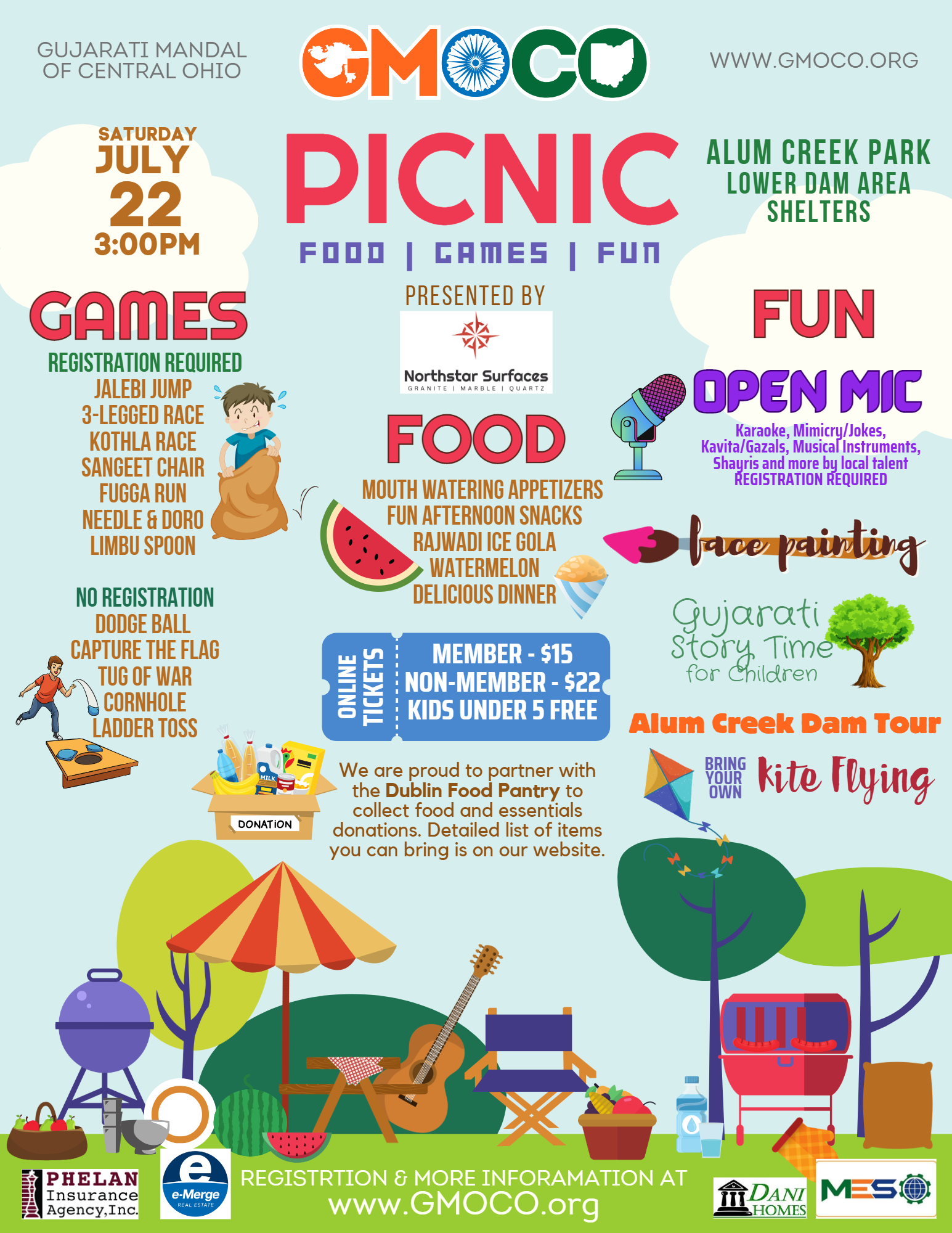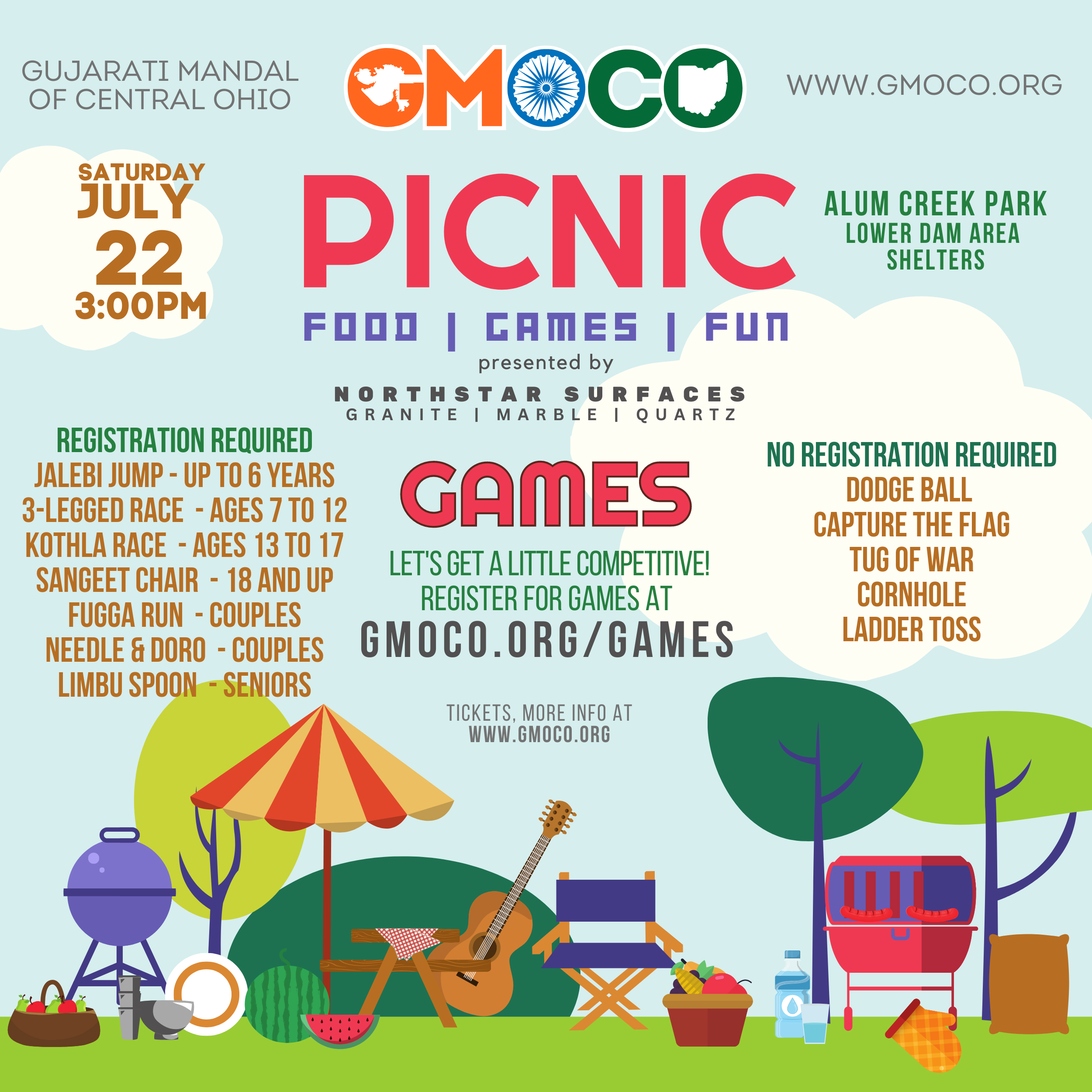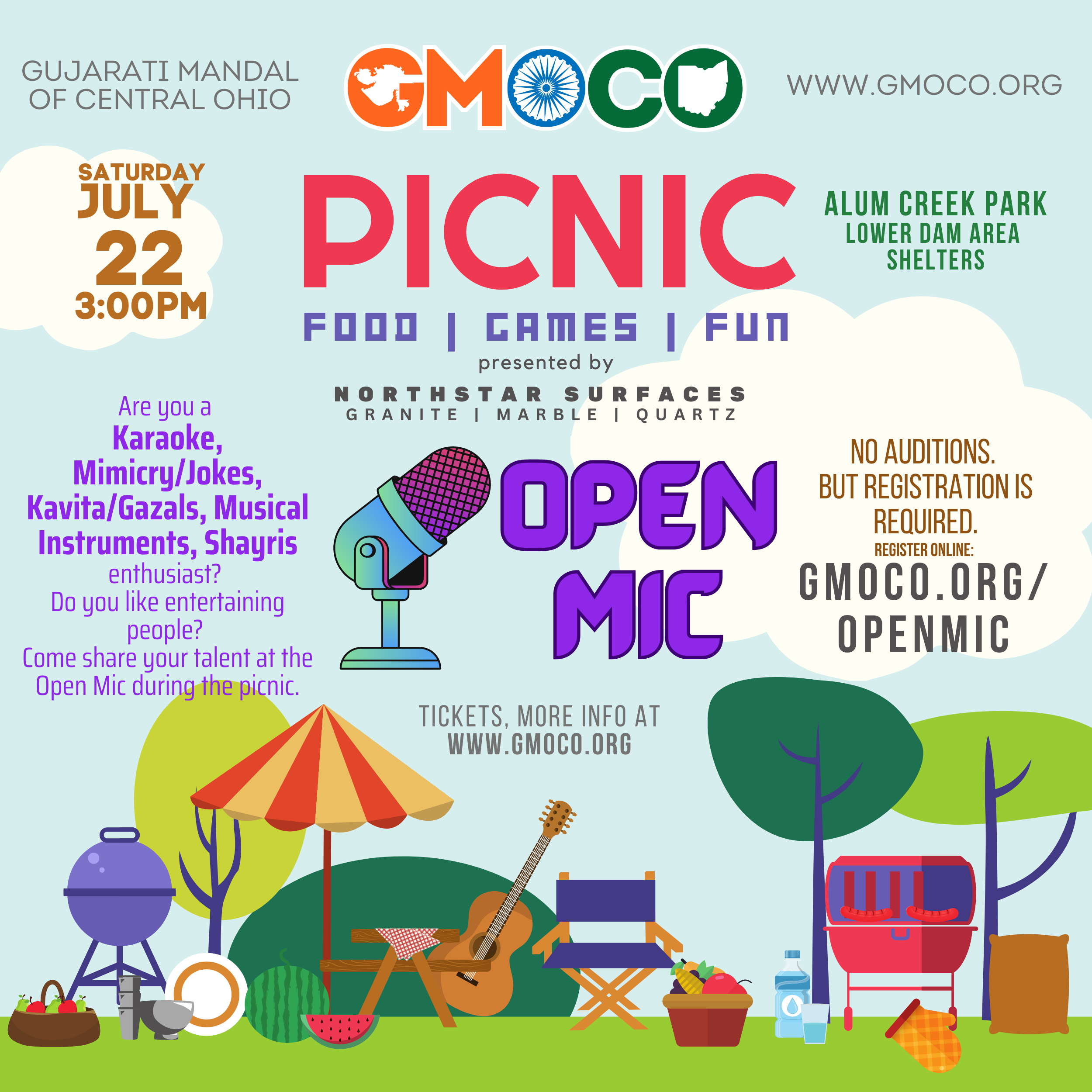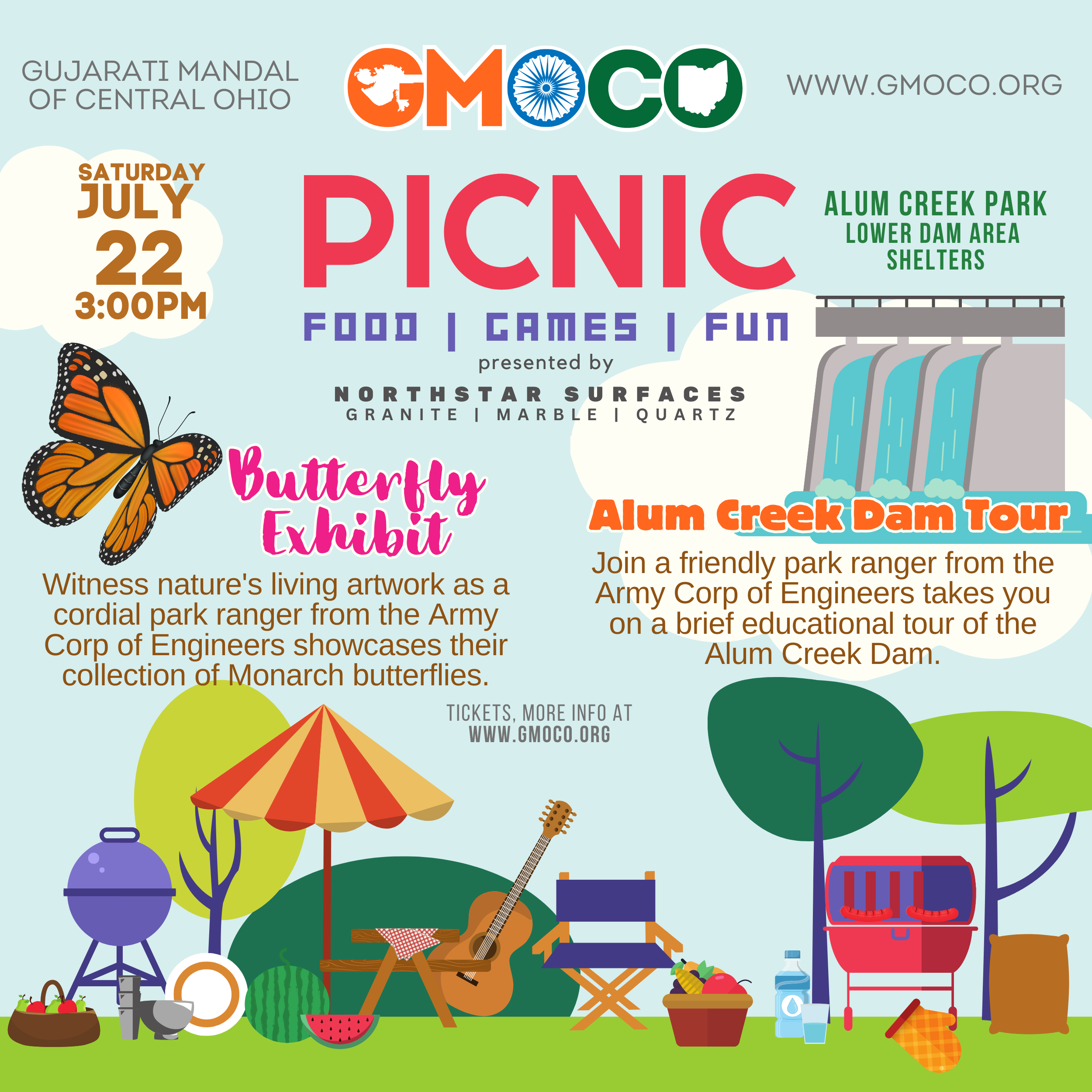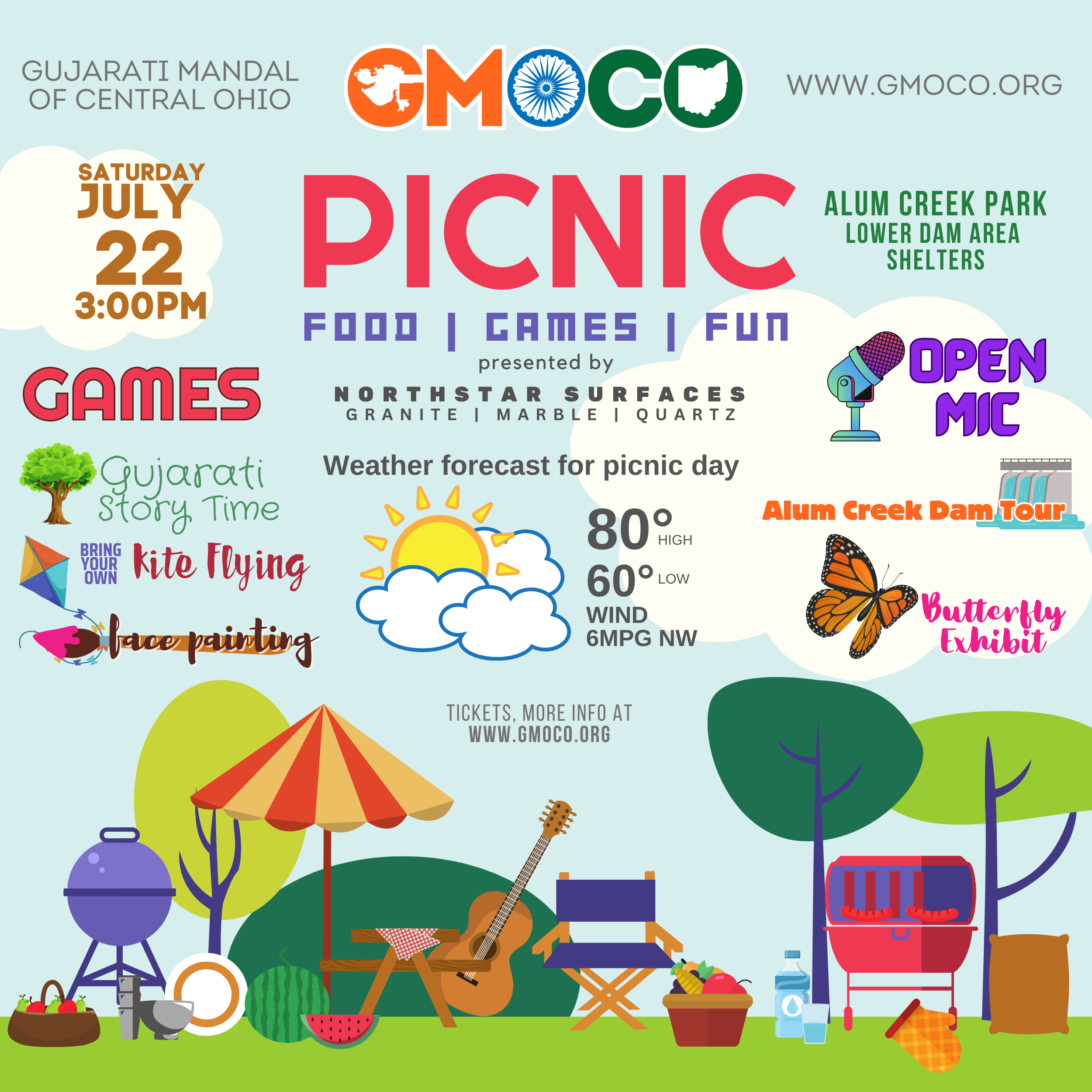 Description

Food

Fun

Games
Dear 
GMOCO
 Family,

We can't wait to see everyone for the picnic on Saturday, July 22 at 3:00 pm at the Alum Creek Park, Lower Dam Area. Let's have a wonderful community gathering with food, fun, games, and music. A variety of delicious foods will be served at different time slots during the picnic.

A limited number of tickets are available, buy your ticket now
Ticket sales will close on Thursday, July 20 at 9:00 pm.  

Parking is limited, please carpool if possible. Shelters have a few picnic tables, but bring your folding lawn chairs for your comfort. Don't forget sunglasses, a hat, and sunscreen. See you there!
 
Alum Creek Park - Lower Dam Area
4171 Lewis Center Rd, Galena, OH 43021
 Please login with your membership account AND add ticket(s) to the cart to see member discount.
Bring Your Own Bottle
Sip smart, quench your thirst, skip the plastic waste! Join the GMOCO Picnic - BYOB - Bring Your Own Bottle, and hydrate sustainably, one refill at a time!
As part of one of the goals of the President's Charter, we are on a mission to reduce plastic waste and make recycling a common practice at GMOCO events. The Bring Your Own Bottle initiative during Picnic 2023 encourages attendees to bring their own water bottles and utilize our convenient refill stations, reducing plastic bottle waste and promoting environmental sustainability. Together, let's make a positive impact on the environment.
Dublin Food Pantry Donations 
GMOCO is proud to partner with the Dublin Food Pantry for the Picnic 2023. As part of the President's Charter we organize events for our community to give back to the mainstream
Please consider bringing any of the following items to donate to this wonderful cause:
Essentials*: Individual Toothbrushes, Feminine Pads, Diapers (Larger Sizes), Baby Wipes, Deodorant, Shampoo, Plastic Grocery Bags
Food: Jelly, Condensed Soup, Mac & Cheese, Oatmeal Packets, Canned Fruit, Peanut Butter (regular size), Pancake Syrup
*Essential items are not covered by SNAP or Supplemental Nutrition Program (formerly
referred to as a Food Stamp Program)
Mouth watering appetizers, fun afternoon snack, Rajwadi ice gola, watermelon and dinner.
We have planned a bunch of amusing activities to bring the community together and make the most of the outdoor get together. Put your sports gear on and common over! 
Open Mic
Are you a karaoke, mimicry, jokes, gazals, shayri, geet, or musical instrument enthusiast? Do you like entertaining people? Come share your talent at the open mic during the GMOCO Picnic. No auditions. But registration is required. To register, please fill out this form.
Gujarati Story Time
Varta re varta! Come under the tree, and listen to stories! Ami Majmudar-storyteller, teacher, dancer, and author—will tell Gujarati stories at the picnic. Come join the fun!
Alum Creek Dam Tour 
Get your steps in for the day as a friendly park ranger from the Army Corp of Engineers takes you on a brief educational tour of the Alum Creek Dam.
Butterfly Exhibit
Face Painting
Kite Flying
Participate in these amusing games hosted by our volunteers. Break a sweat, get a little competitive and have a good time. 
Registration is required for the following games: 
Jalebi Jump - up to 6
Tran-Legged Race - 7 to 12
Kothla Race - 13 to 17
Sangeet Chair - 18 and up
Fugga Run - Couples
Needle & Doro - Couples
Limbu Spoon - Seniors
To register, please fill out this form
No registration required for these games:
Sprint/Running - All age groups
Dodge Ball - Open to all
Tug of War - Open to all
Kho -  Open to all
---