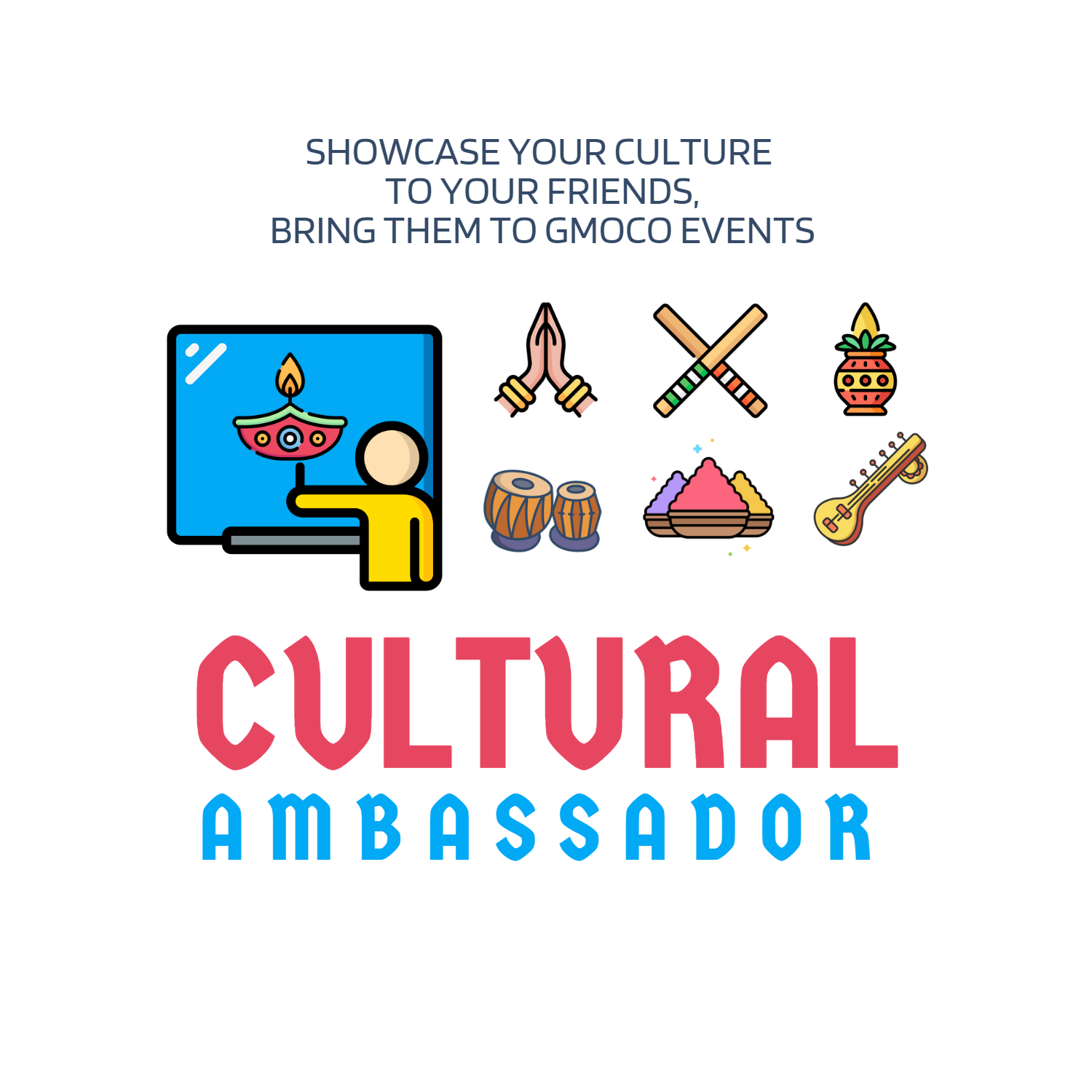 The Cultural Ambassador initiative is an attempt to showcase the festive and very colorful Garba and Dandiya folk dances to the mainstream Central Ohio community. As part of this program, GMOCO encourages our member families to invite one individual of non-Asian Indian descent to Garba & Dandiya.
Let your neighbors, friends, and colleagues experience the enchanting melodies and rhythmic beats of Garba and Dandiya folk dances as we bring the festivities to the heart of Central Ohio. The invitee's entry ticket? On GMOCO, of course! Let's share this traditional, colorful, and fun event with everyone. Join us as we paint the dance floor with cultural vibrancy and create lasting memories together.

If you're an active GMOCO member family, you have the opportunity to share your culture at an unforgettable evening. Remember, each invitee must be registered in advance, ensuring we're ready to welcome them with open arms. No walk-ins, please. If any invitees are minors, their parents or guardians must give their approval for this cultural immersion.
Once you've registered, our dedicated Cultural Ambassador coordinator will reach out with all the exciting details, making sure this experience is unforgettable for both you and your guest.
 Registration Link: https://gmoco.org/caform
Share this information about the Navratri Festival with your invitee:
The Garba & Dandiya folks dances are performed during the Navratri festival. It is the largest event hosted by GMOCO. This event attracts over 6000 attendees over four nights of folk dance celebration. This folk dance is indeed exclusively Gujarati but is so much fun that it is popular all over India and around the world. It has a profound spiritual significance that celebrates fertility, honors womanhood and pays respect to an array of mother goddesses.
Navratri means nine nights. Nava means nine, and ratri means night. The feminine divinity in the form of Nava Durga is celebrated during Navratri. The significance of each day of Navratri is attached to a form of the divine mother.

On the first day of Navratri, we propitiate Devi Shailaputri so that we may also attain the highest state of consciousness.
On the second day, we worship Devi Brahmacharini so that we may meditate and explore our inner divinity.
The third day is dedicated to Devi Chandraghanta so that we may try to withdraw from the quirks of the mind, with a single focus on the divine mother.
The fourth day is dedicated to Devi Kushmanda so that we may receive her divine energy that helped manifest this entire universe in the form of the cosmic egg (hiranyagarbha).
On the fifth day, Devi Skandmata is worshipped so that the motherly aspect of Parvati brings us an abundance of wisdom, wealth, power, prosperity and liberation.
On the sixth day, Devi Katyayani is invoked to put an end to all our inner foes that are a hindrance on the path of our spiritual elevation.
The seventh day is dedicated to Devi Kalratri, who brings solace, rest, and comfort to our souls.
On the eighth day, Devi Mahagauri is celebrated who represents the beautiful and serene aspect of mother nature. She is the energy that propels our lives and liberates us.
The ninth day is dedicated to Devi Siddhidatri who helps bring perfection in life. She takes us beyond the ever-reasoning logical mind to explore the realm beyond time and space.
---
Have questions?
Get in touch with us at any time.