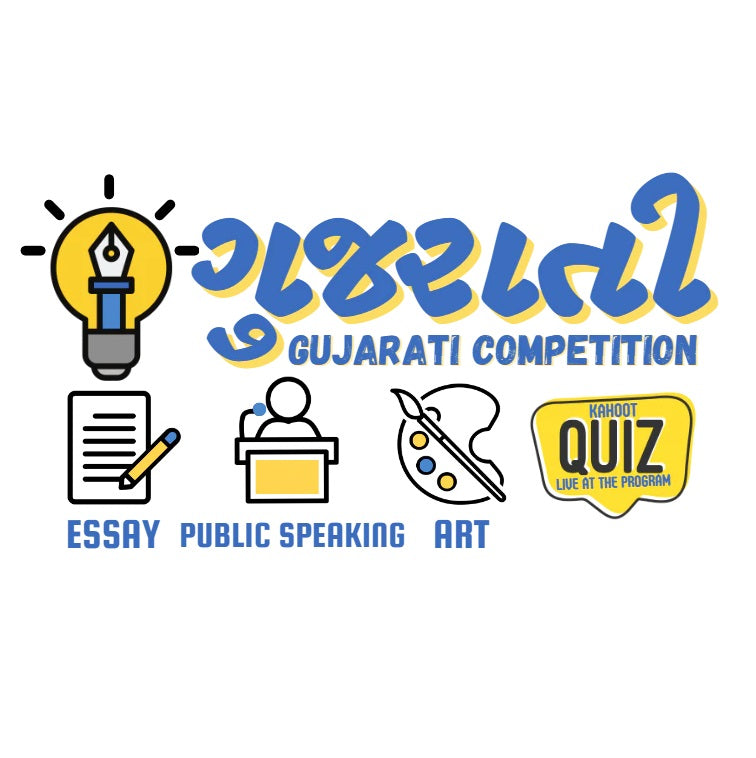 Gujarati Competition is an effort to promote the Gujarati language and increase the awareness of Gujarati culture, history, norms, values, traditions, and food. Beginning in 2023, GMOCO will host the annual Gujarati Competition during Holi Mela. The competition will be held in four categories – Speech (વક્તૃત્વ ), Essay (નિબંધ), Art (ચિત્ર), and Know Your Gujarat Quiz (પ્રશ્નાવલિ) for four different age groups. Registration will be required for all categories but the submission for Speech, Essay, and Art will occur prior to the Holi Mela event.
Speech – વક્તૃત્વ, Essay – નિબંધ, and Art – ચિત્ર require participants to send their speech video, copy of the essay, artwork to be sent in before the submission deadline. Participants' submitted work will be displayed at the Holi Mela. Winners will be announced during the event. Gujarati enthusiasts from Central Ohio will come up with interesting and invigorating topics for each category and age group. Refer to the table below for a list of topics for 2023. Detailed rules and judging criteria will be shared with each participant after registration.
Know Your Gujarat Quiz – પ્રશ્નાવલિ will be played live during the event via Kahoot. Everyone in the audience will be able to participate, but prior registration is required. Most questions are geared toward children.
One of the objectives of our Mandal per Article III of the constitution is "To assist the members and their children to learn the Gujarati language and to retain their cultural heritage.". We hope you will encourage your children to participate. Don't forget, adults can participate as well.
---
Have questions?
Get in touch with us at any time.